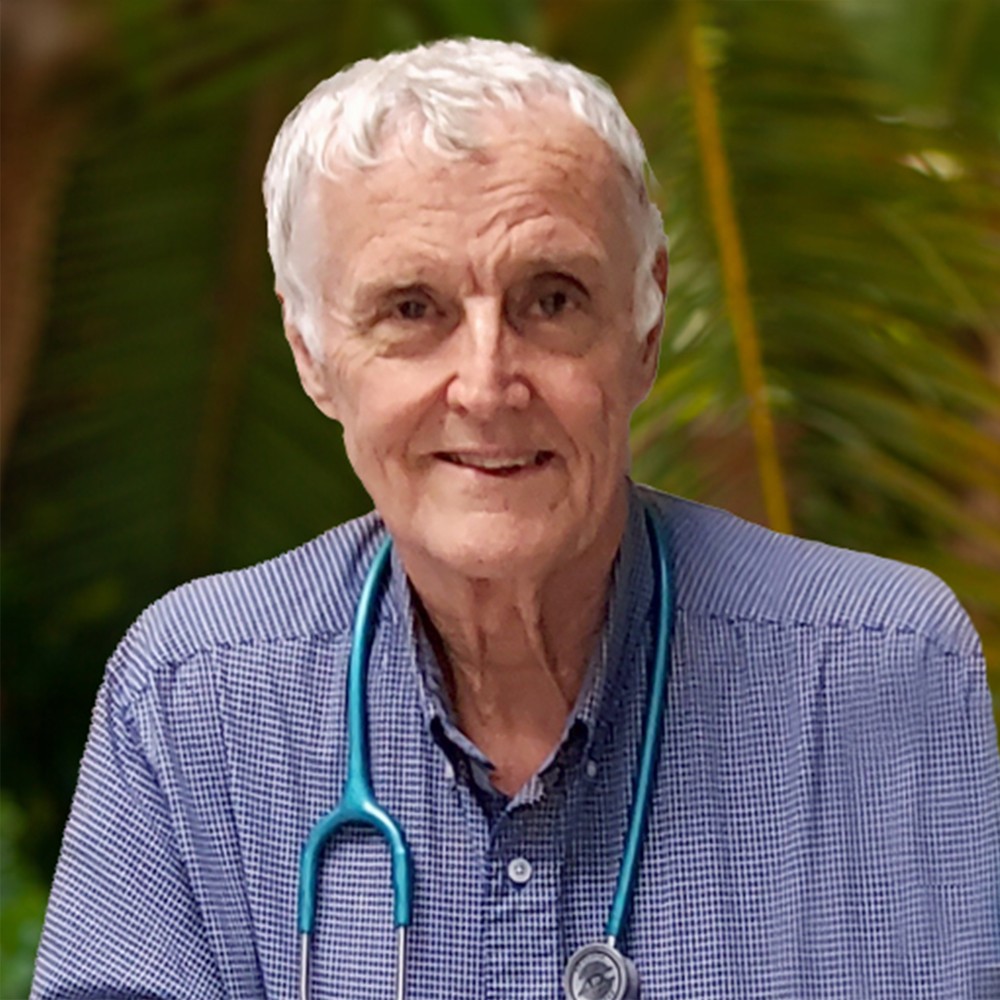 Dr. Robert H. Foley
Dr. Bob Foley has a lengthy and deeply personal relationship with the Florida Keys dating to the early 1970s. Following graduation from the New York State College of Veterinary Medicine, Cornell University, Dr. Foley worked as an equine practitioner at Davie Veterinary Clinic in Fort Lauderdale. The coral reefs and the Keys lifestyle beckoned him further south. With his Cornell classmate and friend, Dr. George Baker, they established Upper Keys Veterinary Clinic at mile marker 94.5 beside Harry Mahoney's Keys Electronics. Drs. Baker and Foley made a commitment to the Keys community and the practice prospered as the townspeople embraced the young veterinarians and their veterinary hospital.
By the 1980's the veterinary facility had relocated to a free-standing building on Plantation Key near the old Plantation Yacht Harbor at mile marker 87.8. The difficult zoning variance acquisition and moving process was facilitated by good friends of Dr. Foley's, contractor Gene Rhodus and retired Army Colonel Bill Fite who, on foot, canvassed the surrounding neighborhood for signatures from enthused area property owners.
During this rapid growth period, Dr. Foley engaged in numerous independent, self-supported, veterinary medical studies, and clinical investigations. The results were more than a dozen peer-reviewed articles published in several refereed veterinary journals such as: the Journal of the American Veterinary Medical Association, the Journal of the American Animal Hospital Association, The Compendium of Continuing Education, the Journals of Feline and Canine Practice, and Veterinary Medicine – Small Animal Clinician journal. Several of the articles were watershed publications and are still germane references. These publications are available for reading or copying as PDF documents on this site.
From 1989 to 2000, Dr. Foley was a Diplomate of the American Board of Veterinary Practitioners. In keeping with Dr. Foley's interest in alternative veterinary medicine as a beneficial segue from his expertise in allopathic veterinary medicine, Dr. Foley became a certified veterinary acupuncturist. Studying under Dr. Hue Xie of the University of Florida, Dr. Foley received his veterinary acupuncture degree from the Chi Institute in 2000.
While this was happening, Dr. Foley founded and ran Veterinary Support International, his personally funded international veterinary medical and surgical outreach. Dr. Foley delivered medical supplies and performed medical and surgical clinics in the poorest and neediest reaches of Haiti, Belize and Jamaica.
In 2010, Dr. Foley again diversified and graduated from Florida International University, College of Law, for the sole purpose of representing disabled veteran appeals in Federal Court before the Board of Veterans Appeals and the Court of Appeals for Veterans Claims. Dr. Foley is a member of the Florida Bar, the American Bar Association, and a member of the Federal Bar for the Southern District of Florida. He is also certified before the Board of Veterans Appeals and the Court of Appeals for Veterans Claims. Dr. Foley's law practice is separate and not connected to his veterinary hospital. Links are available on this website as well as white paper legislation proposed by Dr. Foley to assist Iraq and Afghanistan veterans.
Dr. Foley has always immersed himself in the business and community activities of the Keys. For over twenty years he was on the Board of Directors of Dr. Rich Matthew's Guidance Clinic of the Upper Keys. For seventeen years, he was on the Board of Directors of Dennis Shea's Islamorada Foundation for the Care and Cure of Huntington's Disease, and was on Dr. Sandy Yankow's Good Health Clinic for a decade. Dr. Foley had a stint on the board of the Islamorada Chamber of Commerce where he is still an active member.
Dr. Foley is on the Board of Directors of Laura Quinn's Florida Keys Wild Bird Center. Dr. Foley has also been and is still involved with innumerable charities and samaritan endeavors such as the exemplary local animal humanitarian groups Caring for Cats, Casting for Cats, and Marr-velous Pet Rescue.
In the wider south Florida and state region, Dr. Foley was Chairman of the Board of Directors of the Alliance for Aging, an operational arm of the Florida Department of Elder Affairs. And, even though Dr. Foley is a Cornell graduate, he is a Leadership Member on the Dean's Circle of Excellence at the University of Florida, College of Veterinary Medicine.
In 2011, Dr. Foley had the opportunity to retake operational control and full administrative ownership of his veterinary hospital. Following ten successful years of ownership by Veterinary Centers of America, Dr. Foley recreated his veterinary facility as Upper Keys Veterinary Hospital.
Dr. Foley has remodeled and modernized his hospital, laboratory and radiology departments to the latest technology and his information technology network rivals local human hospitals. Upper Keys Veterinary Hospital continues to improve as more and contemporary treatment modalities and contemporaneous veterinary practices are implemented by the progressive veterinary associates and staff.
The professional and lay staff employees at Upper Keys Veterinary Hospital, following Dr. Foley's template, endeavor to provide the highest standard of care to meet the medical and surgical health care needs of pet family members from Key West to Tallahassee and beyond.
Dr. Foley and his whole staff are great and we've been going there since our dog was a puppy 9 years ago!

Vic W.

Google